Koenigsegg is ready to Vroom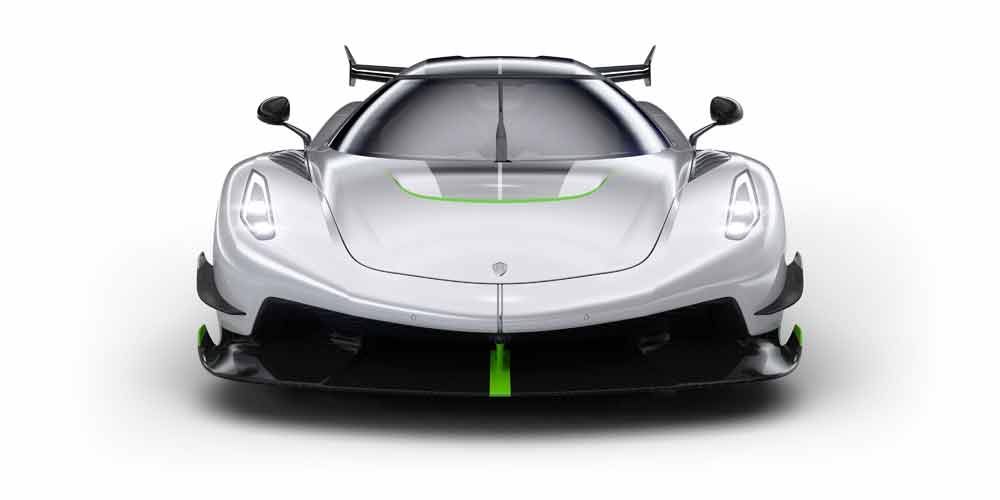 Koenigsegg Jesko

The Koenigsegg's Jesko comes with 1,600 hp and can do 300 mph according to Koenigsegg. There are two different versions of the car. Koenigsegg designed one for a high speed run to make the 300 mph, and one with some serious downforce for the racetrack. No matter the variant, you get a new carbon fiber and aluminum chassis, new suspension setup, redesigned engine, and a special gearbox. The car may be the successor to the Agera, but it's all new.

The Koenigsegg Jesko is a limited production mid-engine sports car produced by Swedish automobile manufacturer Koenigsegg. Introduced at the 2019 Geneva Motor Show, the car succeeds the Agera. The name Jesko is a tribute to the company founder's father, Jesko von Koenigsegg.
Engine: 5.1 L (5,065.48 cc; 309.1 cu in) twin-tu...
Curb weight: 1,420 kg (3,131 lb); 1,320 kg ...
Power output: 955 kW (1,298 PS; 1,281 hp)

Swedish car manufacturer Koenigsegg is a world-leader when it comes to sports car innovation.

"Our cars are designed to offer the ultimate in performance, combining advanced materials for low weight, with engine and suspension technology more akin to racing cars than a typical road car," explains Christian von Koenigsegg, who founded the company in 1994 when he was just 22 years old.

So advanced are the cars that each one is built to order, by hand, in the company's artisan factory in Ängelholm, Sweden, and only 15–20 are built per year. It's this highly focused vision and "unyielding tenacity" to which Christian attributes the firm's success.

"To succeed in a highly specialised market you need a vision that offers something unique and an iron-clad will to see that vision come to life," says the entrepreneur.

"You need a willingness to risk everything. More than that, however, you need people with the talent to see your vision become real."

The latest vision brought to life by Christian and the team is the Regera. The 'hypercar' combines racing-spec electrical power with Koenigsegg's twin-turbo V8 to produce a staggering 1500hp – and the firm now has a two-vehicle range for the first time as a result.

Koenigsegg collaboration
On January 14, 2019, the Board of NEVS AB decided to enter into a collaboration with Koenigsegg aimed at
strengthening the technology base for electric vehicles and to jointly develop and produce vehicles. Christian
von Koenigsegg was appointed CEO of the company, in which NEVS AB owns 65% and Koenigsegg owns
35%. At the same time, NEVS AB acquired 5% of the shares in Alpraaz AB, which is the Koenigsegg Group's
holding company, as part of an agreement that allows NEVS AB to acquire up to 20% of the company.

Supercar maker Koenigsegg announced that it is taking a $170 million investment from NEVS, SAAB's all-electric successor, and the company says that they will use the money to ramp up their electrification effort.

The two Swedish companies were already collaborating, but this latest move deepens their ties.



With a EUR 150 million (~$171 million USD) investment, NEVS is taking a 20 percent minority stake in Koenigsegg's parent company and they are also setting up "a joint venture to expand into new market segments where NEVS AB is contributing USD 150 million in starting capital for a 65 percent stake and Koenigsegg obtains 35 percent by contributing primarily with intellectual property, technology licenses, and product design."

Koenigsegg says that it will enable them to develop "parallel vehicle models in slightly higher volumes with emphasis on electrification."